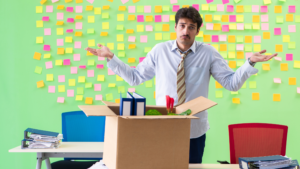 It has been an extremely turbulent time in the tech job market this year.  We were all getting our heads around what the last 2 years have taught us and returning back to 'normality'.  Now to make things even more challenging we have job insecurity to add to our growing list of concerns.
It isn't just the start-ups either, even the world's major tech companies (e.g. Twitter, Tesla, Shopify, TikTok and Netflix) have made huge cuts.  Companies, big and small are being forced to review their processes, work out how to save costs, streamline project management, improve communications and ensure staff efficiency is maintained from their chosen workplace despite these concerns.
It's not easy for anyone at the moment, no matter which side of the table you sit on, so empathy and kindness are key attributes, along with a good dose of 'positivity'.
"When one door closes, another opens; but we often look so long and so regretfully upon the closed door that we do not see the one which has opened up for us."

– Alexander Graham Bell
If you've been laid-off recently, it can be extremely difficult and take a toll on your mental health, your faith in your chosen career path and your skills and abilities.  Allow yourself time to process the emotions around this.  Understand that it's not a personal attack on you.
Look at your situation objectively and consider what you want.  When was the last time you were allowed to do that?
You have more options now to follow your ambitions, and move your life in a direction that's more authentic to you, than you ever did whilst you were employed!  Use that to drive you forward to finding the next part of your career journey.
Redundancies and lay-offs are a fact of life, particularly at the moment, so be honest about it in your subsequent interviews.  Your attitude is more important and how you communicate with your interviewer will reflect this.  Here are some tips to help you through your first few rounds of interviews to get past the questions relating to lay-offs and redundancies:-
Prepare a statement that explains the layoff in a concise and factual way that you feel comfortable with.
Give the reason for the lay-off e.g. downsizing, restructuring or merger.
Ensure that you highlight your achievements i.e. what you accomplished during your time at the company.
You can move the conversation forward positively to emphasise the new possibilities that being laid-off has opened up to you and what you can bring to a new role.
For example:-
"The restructuring of the company resulted in the elimination of a number of jobs, including mine.  I took the opportunity to re-evaluate my skills and I have been busy upgrading my skills in X. I believe this opportunity is an excellent fit with my expertise and I am excited about making a positive contribution by…XYZ."
We at Propeller-Tech are always happy to run through some standard interview questions with our candidates, and give advice on how to handle some trickier topics.  Get in touch with us if you would like us to help or answer any questions you may have.