It is International Women's Day today.  The theme this year is "DigitALL: Innovation and technology for gender equality."
The fight for gender equality has been going on for centuries.  Yet women are still facing an immense amount of misrepresentation and inequality in many areas of society.
And IWD23 is holding a spotlight on the tech industry this year.
Below is a summary of some facts and figures highlighting just how disparate the inequality remains in tech and workplaces around the world.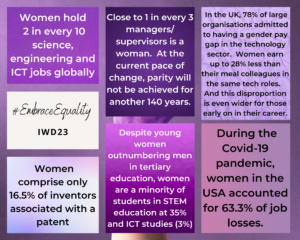 Rather dishearteningly, many initiatives to try and encourage measures to even out the playing field have not got very far.  The Bill and Melinda Gates Foundation, 2022 Goalkeepers Report projects that it will take almost 90 years to achieve gender equality on the global scale.
But we will not be pessimistic.  We are making small steps in the right direction in many areas.
Although 8 in 10 IT computing employees in the UK are male, there was a 15.8% increase in female students taking A-level computing between 2021 and 2022.
We are all capable of change.  Nothing worth fighting for is easy at the start.  It needs collective focus and action.  
What more can IT companies do to achieve gender equality?
1   Recognition and Reward
Research from Accenture and Girls Who Code found that half of young women who do go into tech leave their positions by age 35.  They cite 'non-inclusive work culture' as one of the top reasons for doing so.
Furthermore, Workhuman says that employee recognition is one of the most important factors in driving workplace engagement, productivity and retention.  Particularly in the case of women, who are 34% more (than men) likely to suffer from mental health problems as a result of feeling neglected and unrecognised for their work and skills.  Managers need to take these differences in 'recognition needs' into consideration.
Companies could set up initiatives where colleagues (as well as managers) recognise and show their appreciation and gratitude to each other for the great work that they do on a daily basis.
2   Employee Resource Groups
Further to the recognition suggestion above, another way to support inclusivity is to set up employee resource groups.
Experian is one organisation that created a 'Women in Experian' (WiE) network to help women take the next step in their careers.  They host events, share resources, podcasts, playlists and promote networking.
Employee resource groups  are a great way to connect women from various teams and enable them to share experiences, advice and find allies.  It should be a place where women feel open to discuss any problems they're having whether mental, physical or at work.
3   Champion Women Leaders
A study by PwC found that almost 80% of students cannot name a famous female working in technology, but two thirds can name a male.  There needs to be more representation of women in leadership roles to inspire young women to pursue careers in technology.
We recently posted a fascinating UKTN podcast with Anne Boden who founded Starling Bank in 2017 – and became the first woman in the UK to start a bank!  Starling are smashing the gender diversity gap!  Women now make up 41% of their leadership team!
Starling shouted their equality message loud and clear as they became the official sponsor of the UEFA Women's Euro 2022 tournament.
4   Be Proactive and Measure this Action
Being a place of work that treats women and men equally will bring about a more positive work experience for everyone and benefit the company as a whole.
It is not enough stating a code-of-conduct and policy of ethics in a handbook.  This is not a box ticking exercise.  Companies can create a culture that is bereft of stigmas, taboos and fears by talking to their employees about their feelings about inequality in the workplace.  Assess what is needed to level this out, and then take the steps to ensure that these policies are meaningfully implemented.
Examples of steps that could be taken, depending on the need of the organisation and its employees are:-
Flexible working hours for everyone irrespective of gender
Everyone must feel safe to do their job without workplace discrimination
Everyone receives equal opportunities and employee appreciation
Eradication of gender pay gap
Everyone gets training and learning opportunities within the company
Strict company policies and actionable consequences to prohibit sexual harassment and power abuse
Encourage and engage in internal communication networks and groups
None of this is rocket science.  It is all achievable, but it requires action and commitment to create the change that is needed to create a better work culture, and moreover, a better world! #EmbraceEquity
If we can help you grow your team into a company that prioritises gender equality, we would love to hear from you.  Contact us today.